So, you're planning your big day and you've just secured the perfect venue.
Or maybe you haven't... maybe you've found a few spaces that might fit the bill, but the carpet or walls or ceilings leave a little something to be desired.
Whether your venue is exactly what you dreamed of or needs a little makeover, we'd like to introduce you to your new best friend: uplighting.
UPLIGHT

/'ǝp,līt/ noun:


a light placed or designed to throw illumination upward.
Yeah, you probably figured that one out on your own. But if you're looking to learn a little more about uplighting, how it can be used, and whether or not it's right for your venue and vibe, we're here to shed a little light.
Does my wedding venue need uplighting?
Do you need it? No. But if you're not liking the plain walls or paneled ceiling, then uplighting can indeed take focus away from all of that. If done correctly, you can do a lot with a little—enhancing certain decor or transforming basic walls.
Even with a tight budget, you can make a BIG splash with uplighting.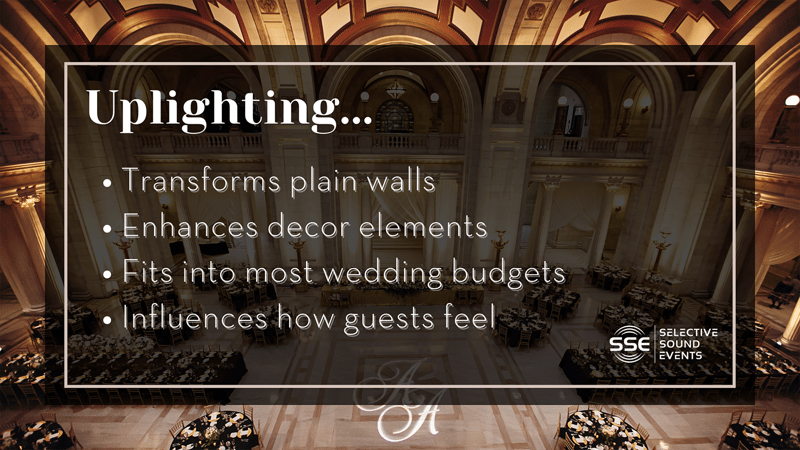 Are there different kinds of uplighting?
There are hundreds if not thousands of different types of wired and wireless uplighting fixtures, from LED to regular incandescent bulbs —though incandescent fixtures are increasingly becoming a thing of the past. While some sporadic companies are still using clunky, wired fixtures, at SSE, we only use wireless LED fixtures.
LED fixtures can range from just RGB (Red/Green/Blue — you can color mix with different intensities) to RGBAW, which is Red/Green/Blue/Amber/White. With the addition of amber and white, you can achieve much more nuance - from soft whites to crisp ambers.
Depending on the quality of the uplighting fixture, you can change the lighting colors, enable fades, set the lights to go to the beat of the music, and build a light show by remote/computer.
What color uplighting is best for my wedding?
The color (or colors) you select for your wedding uplighting often depend on a number of things:
The existing colors of the space and furniture (chair color, wall color, ceiling color etc.)
The type of venue (Are there windows and natural light? High ceilings? Columns or other structural focal points?)
Your desired color palette/aesthetic (floral arrangements, table linens, etc.)
Soft whites are probably the most popular uplight color as they are crisp, neutral, and classic. They are also easy on the eyes.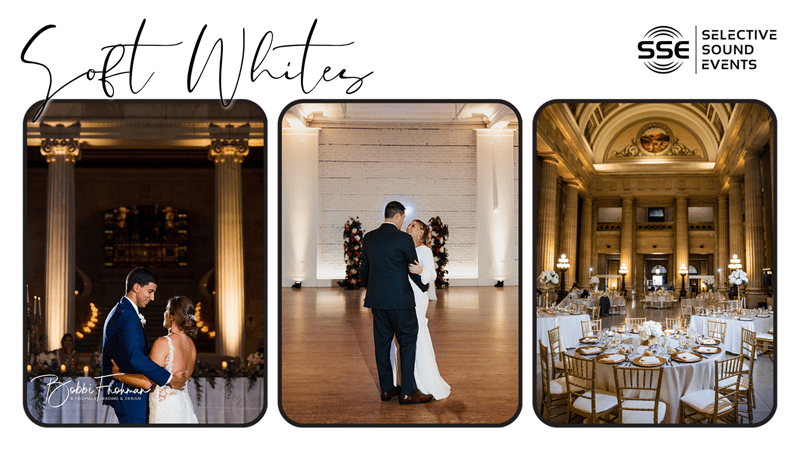 Images from left to right: B. Frohman Imaging + Design, Marisa Lyon Photography, and Making the Moment.
Deep colors can truly change the atmosphere, lending a bold, modern feeling to the room. One thing to note is that too much of the (wrong) deep color ends up feeling "heavy" on your eyes. The human eye is not used to, nor designed to focus on, the type of light that a light-emitting diode (LED) puts out. Darker colors that are bright will play tricks on your eyes. A good lighting designer will help you avoid this scenario.
Lighting (and color) can have an enormous impact on the feeling of a space. Whether you're going for a modern party vibe or a soft, romantic atmosphere, uplighting can help you achieve the desired mood.
Here at Selective Sound, we specialize in creating your dream wedding through lighting, sound, and special effects. Connect with us today so we can get to work on YOUR big day!
Are you planning your wedding? Check out more of our helpful blogs here, and follow us on Instagram for wedding inspo and advice (@selectivesound)!