A Q&A on how to identify your unique wedding style
Some couples have had a vision of their wedding since they were little.
While others get engaged and buy a stack of wedding magazines to browse for inspiration.
But no matter where you land on the above, defining your wedding vision can still be a huge challenge.
We sat down with our Vice President, Jay R Rich, to discuss his tips on how to successfully bring your wedding style to life.
Q: How do you start the conversation with couples?
Before doing a walk-through, I sit down with my clients and get a better idea of how they envision their wedding.
A key first step: I ask them to write down their top five priorities in order.
Do they prioritize how the room will look to impress their guests, or is the party and dancing more critical?
You might be surprised at how many care more about the room's look versus the overall experience.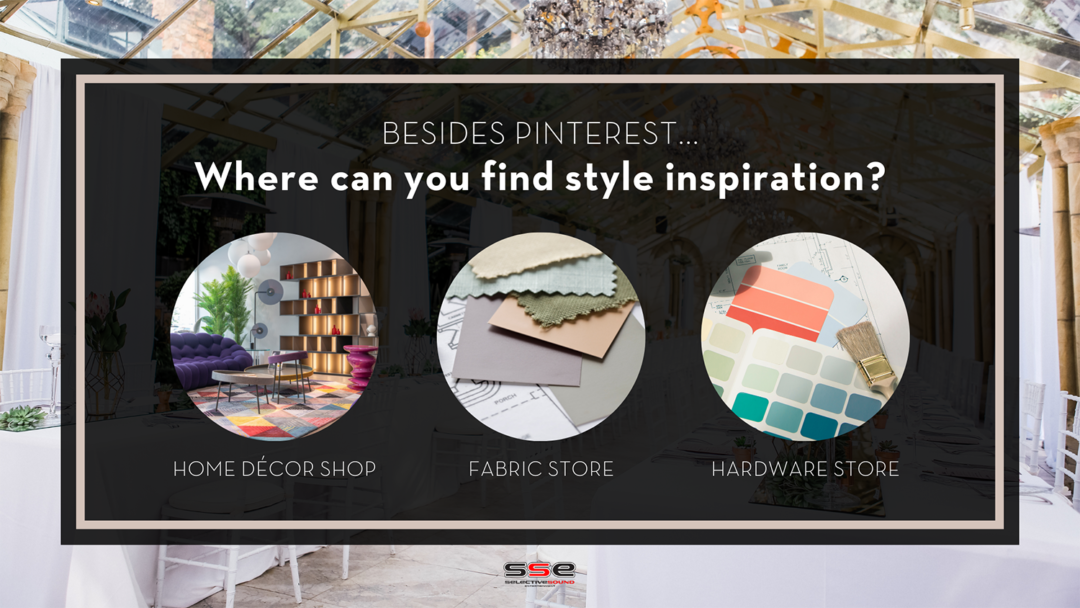 Q: How do you suggest the couple communicate their vision to you?
It's all about figuring out what excites them and attaching a style to it.
If they have a Pinterest board or inspiration pictures/websites, I like to get those before we meet and study them for color, stylistic themes, flower choices, etc.
If they are unsure of their vision, I suggest looking at non-wedding items. I often recommend going to an interior design store, pulling fabric samples, picking furniture styles, and taking pictures. You could do something similar by pulling paint swatches from a hardware store or tearing pages from interior design magazines.
Then, when we meet in person, one of my favorite questions to ask is what they have liked or remembered from other weddings they've attended. I pay particular attention to what makes their eyes light up.
I also like to show my couples pictures of our past weddings and watch how they react. I love this because it gives me instant feedback.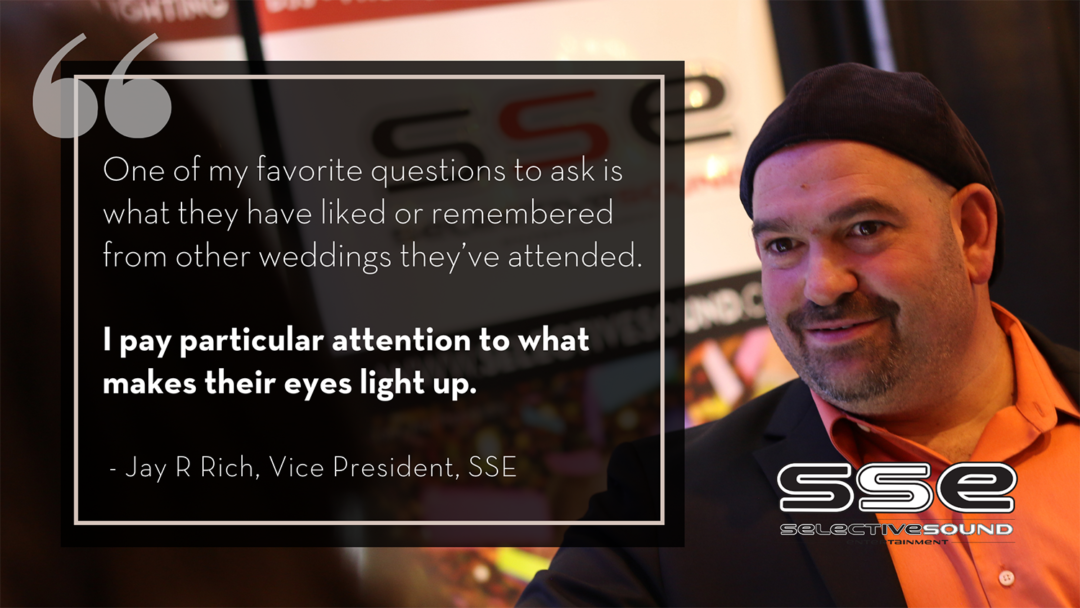 Q: How does a walk-through help you better understand their wedding vision ideas?
I love this step because you get to see the heart and soul of the couple's vision start to come to life.
The walkthrough and inspiration photos really get the creative juices flowing. I have them show me where the tables will be and how the room will be arranged – it gets them excited!
We talk about the party they envision (or don't) and how we can create the right atmosphere and feel through lighting and music.
As we get closer to the date, the couple will connect me to their florist and wedding planner, and their ideas will come together.
Q: How can sound and lighting design help enhance a couple's vision for their wedding?
I know instantly if they keep talking about the reception and the dance floor, we need to discuss their dance floor options to build the atmosphere.
The walkthrough is important here, as the venue dictates what extra lighting, sound, and special effects you can bring to the dance floor. I also strongly recommend a high-end DJ or band to create a party that their guests will talk about for days and days.
Conversely, if the couple has a specific color palette or mood they want for the room, we will discuss how we can use uplighting to warm (or cool) the walls or do overhead lighting, chandeliers, etc.
We'll talk about how lighting can be used to enhance their florals and decor, helping to highlight these elements. Lighting can even be used as decor in the right location through patterned gobos.