One of the most fun – yet most confusing – things about wedding planning is that there are hundreds of ideas out there on how to light and decorate your wedding. But there's one thing that combines decor and light to provide the ultimate, upgraded ambiance.
We're talking about chandeliers.
From elegant to a little more down-to-earth, there are options for every wedding aesthetic and Selective Sound carries a huge variety, including:
Classic & Cluster
Wyatt Crystal
Wrought Iron
Egyptian Crystal
Firework Globes
Greenery Drop Light
Chandeliers based on your personal style
Vintage Elegance
As Bridgerton booms and Regencycore rises, so does our love for the elegance of a bygone era! Both versatile and beautiful, these chandelier styles will complement and enhance a wide variety of venues.
Classic –

These are what we think of as traditional crystal chandeliers and are an affordable option for your wedding. Classic chandeliers are described as elegant, clean, clear, and classic.

Wyatt Crystal –

This unique design features an upside-down, tiered cake shape with five rows of rectangular-faceted crystal droplets. It can feel either modern or retro, depending on the rest of your decor!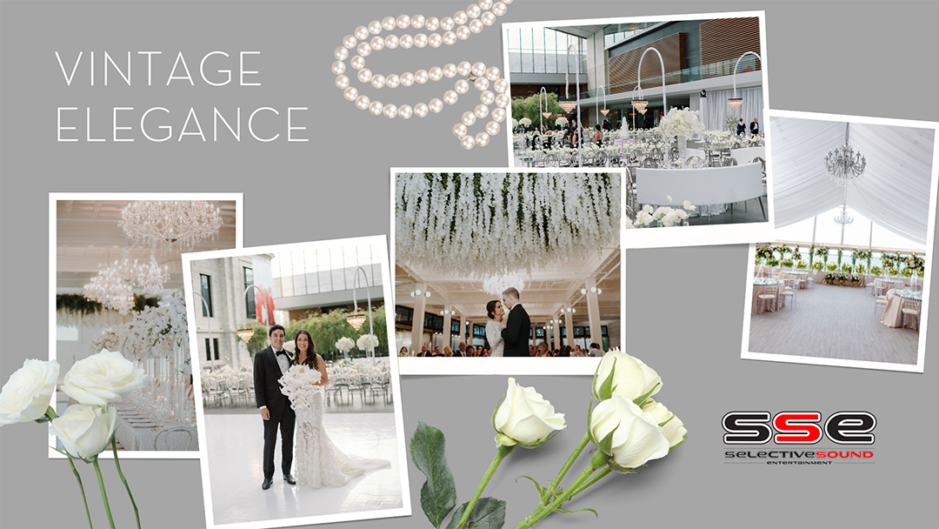 Statement Drama
Leave it to a Kardashian to invigorate a wedding trend. Since Kourtney Kardashian's wedding to Travis Barker, we've seen a huge rise in couples opting for a bit of a gothic vibe. If you want your wedding decor to knock 'em dead, you might consider these statement-making pieces.
Wrought Iron –

Wrought iron chandeliers are often thought of as bringing rustic glamor to a wedding. They can also be colored, such as black, to add more drama or a gothic look. Wrought iron chandeliers often work well in orchards, barns, castles, and other rustic venues.

Egyptian Crystal –

These elegant chandeliers will definitely make a statement at your wedding! Ideal in ballrooms and galleries, these chandeliers can also add grandeur and glamor to tents and more.

NEW!

Firework Globe –

Bring a unique pop of fun to your wedding lighting with a firework globe. These modern fixtures are generally circular clusters that resemble fireworks in the sky. They work beautifully in outdoor spaces and in barns and breweries.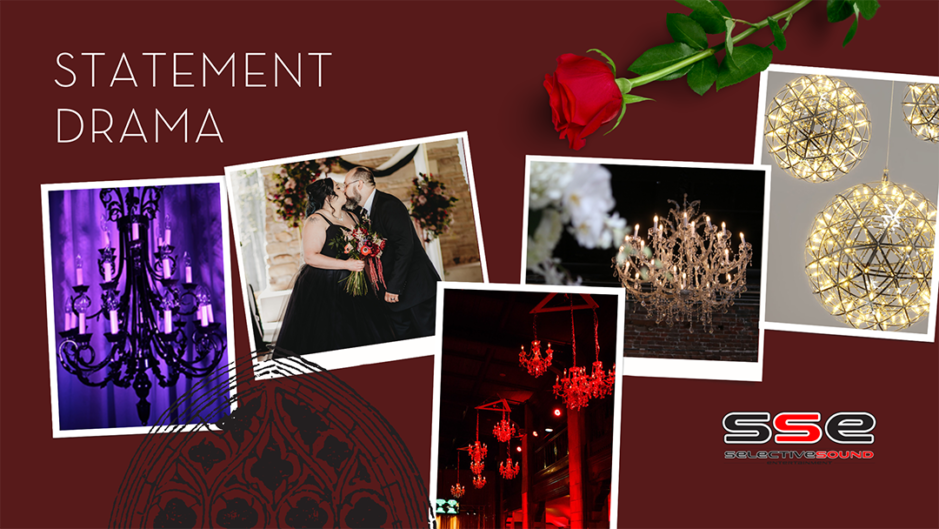 Earthy Romance
Gardens have been a source of romantic inspiration for centuries. From whimsical garden parties to rustic warehouses, there are many options to create earthy elegance at your wedding.
Cluster –

A cluster chandelier is simply a grouping of three or more of our Classic chandeliers to add extra lighting and impact to your decor. Bonus: The Cluster frame also makes for a perfect place to hang whimsical florals too!
Greenery Drop Light –

Add a whimsical, classic, natural, or romantic twist with a greenery chandelier. It's an eye-catching statement piece that your guests will not forget. Your florist or event designer can customize these fixtures with greenery and blooms that match the look and feel of your wedding. We love this style of fixture, well… everywhere!
With chandeliers, the options are limitless. These lighted beauties offer an extremely creative way to enhance your theme or boost the drama at your wedding.
Our lighting professionals would love to meet with you and help create the wedding of your dreams with chandeliers and other lighting solutions! Contact us to schedule your no-obligation design consultation.